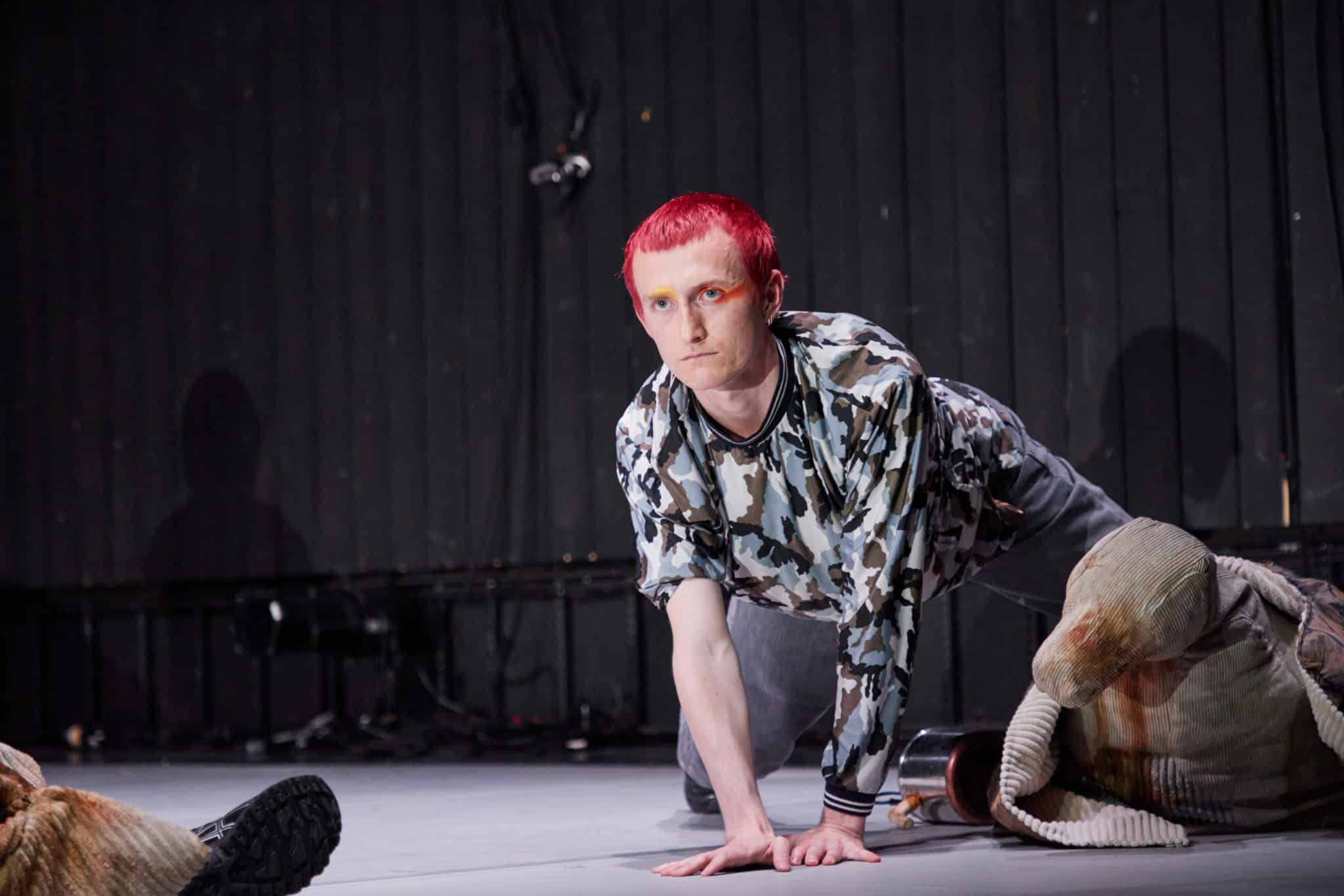 BUD by Roza Moshtaghi
The starting point for BUD is to examine the waiting state. Choreographer Roza Moshtaghi takes inspiration from a personal experience by exploring how we experience waiting and expectations associated with being in this mystical state between life's small and large events.
Waiting is a game of patience. The enigmatic figures start in costumes that border installations: they appear waiting and almost motionless in the dim darkness. Slowly and painstakingly, they emerge from their shells and come to life – the intensity of the music, lights, and movements increase.
The dancers undergo different situations where they wait, stop, start and make new attempts.
The title also refers to the flower bud, and flowering attempts occur throughout the performance. Subdued and restrained growth turns into moments of wildness and disorder. The bare stage floor, the pulsating music, and the clever lighting make BUD's scenic waiting room an introspective visual experience.
About the choreographer
Roza Moshtaghi, is an Iranian choreographer and performer who lives and works in Oslo. Her practice deals with the narratives of desire generated through the process of adapting or reacting to systems and structures. Her last three pieces are LIMBO (2021), Bouncing Narratives  (2019) and Only Forever  (2018).
Artistic Director: Annabelle Bonnéry | General Manager: Tone Tjemsland | Communication Director: Birthe Skotheim | Production & Planning Director: Tora de Zwart Rørholt | Rehearsal Director: Shlomi Ruimi, Rebekka Bomann-Larsen | Touring Director: Gulli Kr. Sekse | Sales & Marketing Assistant: Jonas Sharif Hordvik | Adminstrative Secretary: Mona Igland | Production Staffer: Line Jensen |Technical Director: Jeroen Tjeerd de Groot | Technical Coordinator: Mark Simon Watts | Chief Electrician: Robert Roespel | Head of Sound: Gunnar Innvær | Stage Manager: Jan Tore Solberg, Andreas Lassen | Lighting Technician: Thomas Bruvik, Hass Ahmed |Sound Technician: Leif Herland | Technician: Marius Bakke Petersen, Snorre Rønning Mandal | Head of Costumes: Indrani Balgobin | Dresser: Renate Rolland | Modeler/Tailor: Martina Wilhelms | Tailor/Dresser: Krishna Biscardi | Costume Maker: Kristine Akselberg | Tailor: Amelia Qualmann | Propmaster: June Olsen | Prop Assistant: Victoria Langøy | Housekeeping: Benigne Nizigiyimana & Davin Iratunga | PR-photo Sjur Pollen | Process & Press Photos: Øystein Haara | Video: David Alræk | Special Thanks Sovaco de Cobra: Lewis Seivwright, Rui Horta, O Espaço do Tempo | Special Thanks BUD: Eivind Rose Nilsen, Maria Ursin, Karen Eide Bøen, Josefin Jussi Andersson, Damoon Shokat Moghadam