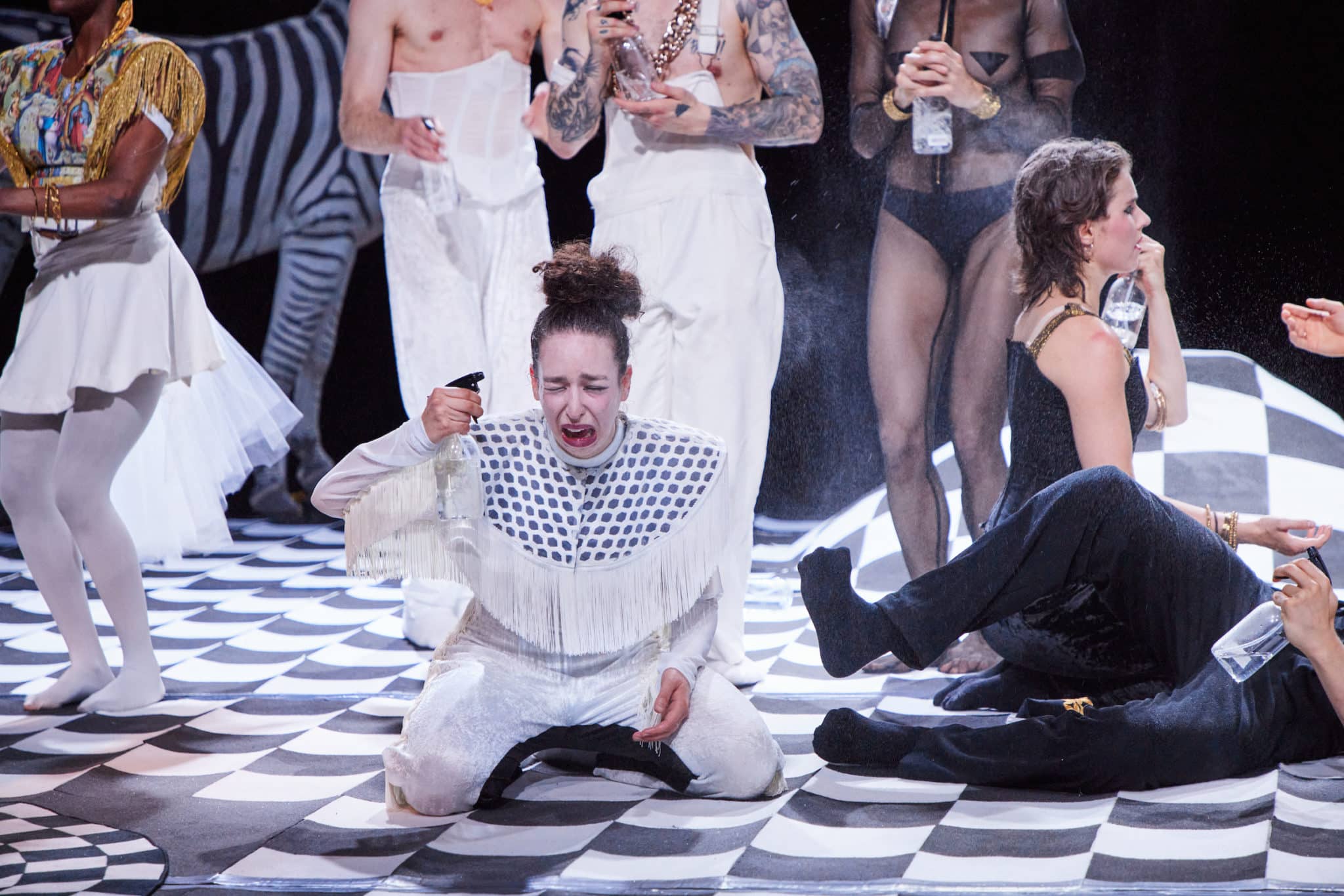 Sovaco de Cobra by Lander Patrick
In Sovaco de Cobra (Norwegian: snake's armpit), we invite you into a world where the social rules are underpinned by an unfair game which
gives arbitrary and brutal results.
The performance invokes a chess board, a two-sided game where the winning advantage always belongs to one side of the table. With this strategic and warlike game as a visual and thematic backdrop, Patrick creates an energetic performance that challenges the game's rules, and the pieces in the game explore old and new dynamics.
The book Eduardo Galeano's Las venas abiertas de América Latina (Open Veins of Latin America) is one of several sources of inspiration for choreographers Lander Patrick. It describes the ruthless exploitation of the Global South and how colonialism created losers and persistent misfortune for large populations from some of the most resource-rich areas on earth. Raw materials and human suffering were transformed into prosperity and supremacy on the other side of the globe. The game is rigged, and the rulebook forces new moves.
A snake's armpit is something that only exists in the imagination. And after all, much of the foundation that supports the world order is based on fabrications and fiction. They color how we think about our and other people's history and define who and what we value – in life and art. Who decides the value?
Sovaco de Cobra features nine of Carte Blanche's dancers who throw themselves into the game with warmth and vitality. The performance is full of virtuosity and sharp and precise movements. In a collage of images and thoughts, the dancers orient themselves in a whirlwind of rhythms, tempo, seriousness, and playfulness.
Lander Patrick, born in Brazil, grew up in Portugal and is based in Lisbon. He has won several awards, and the production Adorabilis (2017) which he created with his regular collaborator Jonas Lopes won the Aerowaves Priority Company in 2017.
Artistic Director: Annabelle Bonnéry | General Manager: Tone Tjemsland | Communication Director: Birthe Skotheim | Production & Planning Director: Tora de Zwart Rørholt | Rehearsal Director: Shlomi Ruimi, Rebekka Bomann-Larsen | Touring Director: Gulli Kr. Sekse | Sales & Marketing Assistant: Jonas Sharif Hordvik | Adminstrative Secretary: Mona Igland | Production Staffer: Line Jensen |Technical Director: Jeroen Tjeerd de Groot | Technical Coordinator: Mark Simon Watts | Chief Electrician: Robert Roespel | Head of Sound: Gunnar Innvær | Stage Manager: Jan Tore Solberg, Andreas Lassen | Lighting Technician: Thomas Bruvik, Hass Ahmed |Sound Technician: Leif Herland | Technician: Marius Bakke Petersen, Snorre Rønning Mandal | Head of Costumes: Indrani Balgobin | Dresser: Renate Rolland | Modeler/Tailor: Martina Wilhelms | Tailor/Dresser: Krishna Biscardi | Costume Maker: Kristine Akselberg | Tailor: Amelia Qualmann | Propmaster: June Olsen | Prop Assistant: Victoria Langøy | Housekeeping: Benigne Nizigiyimana & Davin Iratunga | PR-photo Sjur Pollen | Process & Press Photos: Øystein Haara | Video: David Alræk | Special Thanks: Lewis Seivwright, Rui Horta, O Espaço do Tempo
Sovaco de Cobra

Châteauvallon-Liberté, scène nationale, Toulon FR (Sovaco de Cobra)