Journal
Elle Sofe Sara & Joar Nango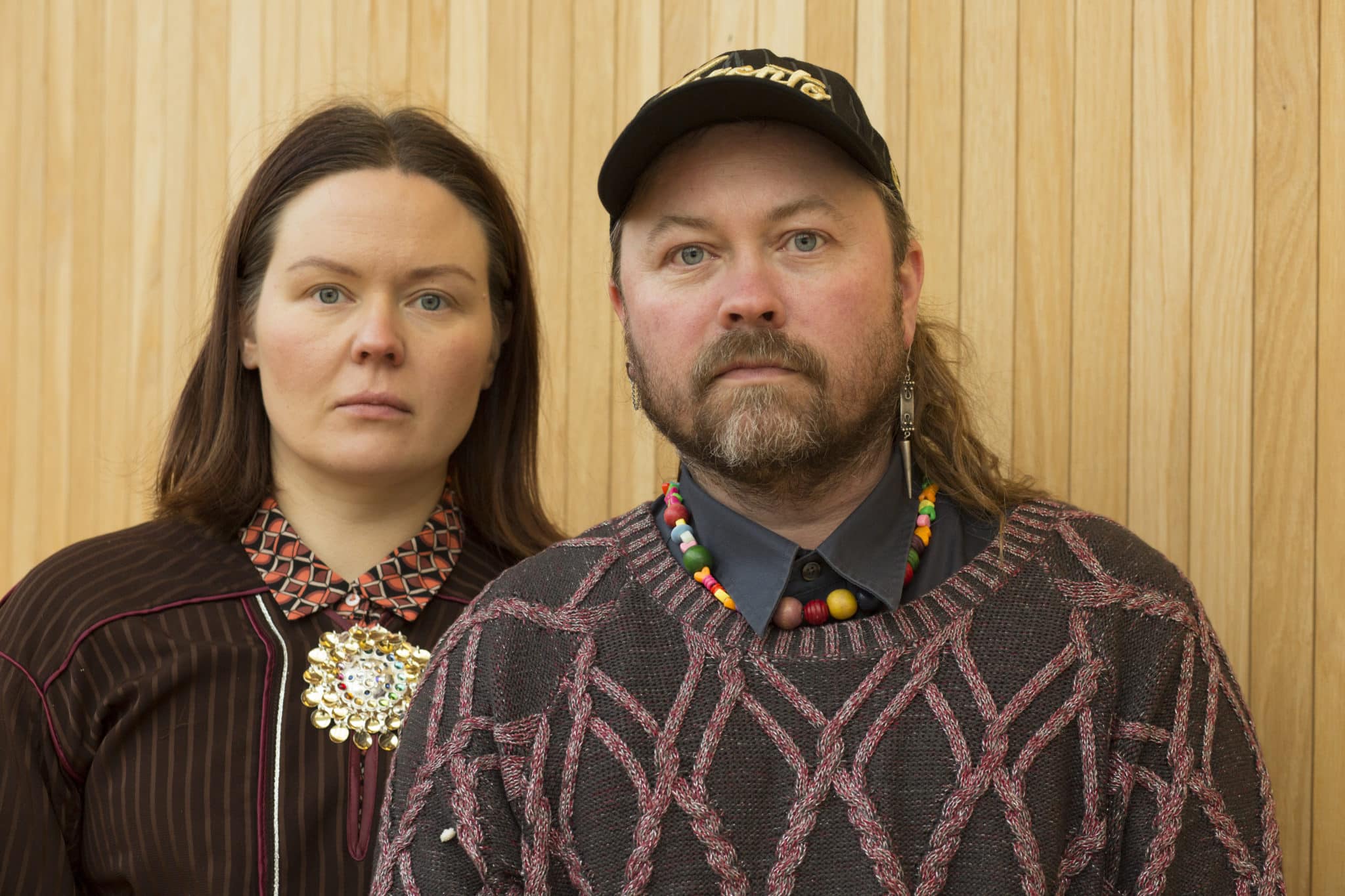 1. Tell us about yourself!
I am a wife, a mother, director and choreographer. I am born and live Gouvdageaidnu in Finnmark.
I chose to return to my hometown after i finished my education in the city. This is where i belong and feel at home.
2. What can you tell us about your artistic vision for BIRGET?
This is one of the most challenging projects i have ever worked on. The theme itself is incredibly complex. You never feel like you are
«done»:
theres always new perspectives popping up. I guess, in a sense, my vision is to let this be a work in progress for as long as possible, show myself in the process and accept that one will never be completely finished.
It is an ongoing journey.
3.What does the title
"BIRGET"
mean to you?
BIRGET is a common word for me and my everyday life. Directly translated it means
«to
be saved» I use the word actively as a freelance artist when planning ahead. So does my husband as a raindeerherder. You plan ahead as much as possible, and take what you get as you go along. There is a lot you do not have control over; both as a reindeerherder and freelance artist.
4. The process started with the dancers visiting Kautokeino for a residency. What did you want them and the Carte Blanche team to take away from this experience?
The goal was for the dancers to gain an experience they could feel and remember, and not at least to learn more about sami culture.
It was important for me that they got to see  me and where I belong. It was a special experience when they arrived at our cabin at Skàidi with the massive tourbus. We went for a hike up in the mountain and later we all squeezed inside and ate bidis.
It was interesting listening to their reflections and perspectives on what for me seems so natural and given.
It really reminded me about the huge differences between Bergen and sapmi.
5.How has it been collaborating with Joar, who is an architect and visual artist? How do you meet in this work?
The collaboration with Joar feels great. Vi think alike and do seem to have the same understanding of the process. I do not get too hung up about wether he is an architect and/or visual artist, but that we meet with all of ourselves and outline the journey together.
6. How has it been to work with Carte Blanche from different projects?
This is the first time i create something for a company, and it is different from what I have done before. It has taken me some time to get comfortable and used to the ways of an institution.
The dancers are amazing; they are open, curious and generous. Its a group I have grown to care for.
1.Tell us about yourself!
I am an architect, as well as an artist. I have been convinced that i am an artist since i was a teenager. After years of unsuccessful applications to kunstakademiet i chose to study architecture in Trondheim. Since then i have worked with the relation between body and spaces. I work between the disciplines. Sometimes art, sometimes architecture. I am 43 years old and have a five year old daugther together with my Canadian partner. My dad is from Masi in Kautokeino, so i travel up north on a regular basis to meet with family and friends. My artistic expression is quite composed. Question regarding the sapmi in architecture is a topic I have worked a lot with during the last 20 years. I love collaboration and processes where i can develop and gain further knowledge.
2. Can you tell us a little about your artistic vision of this project?
Elle Sofe is an artist I admire, and I have wanted to create something with her for a while now. I do not have much knowledge about dance, but its exciting to reflect around the relations between architecture and dance. The body, space and materialism put in motion. I have worked a lot with a type of pragmatic material-aestethic that take direct inspiration from the townships in inner Finnmark where the
«human
created» is transitory in the wide open and endless landscape. The scenography in BIRGET is build upon exactly that; the cheap plastic material used in the nomadic life. The concept development of this project that Elle Sofe and myself are working on, have always been a process. A journey we share with the dancers along with the complexity of the history surrounding the Norwegianisation in which we have chosen to build the storyline around. I dont believe that is correct to talk about vision In that context. It is about the journey which we share.
3. What does the title "BIRGET" mean to you?
BIRGET is one of many sapmi expression which is in particular important. It is used alot, and it might be too easy to just translate it in to
«to
manage» I find it interesting to build art and expression from sapmi concepts and values. On one side we have used the term in a socialogic and psychologic sense and research on how these people we have gathered stories from has managed as same when they been objected to such a huge and structural pressure. How have they managed as samis in such an environment. Parallell to this we have worked with a scenography where its material and aesthetics is playing on the utility- aesthetics. Playing with objects that are is crucial for the people living and working in Finnmarksvidda.
4. The process started with the dancers visiting Kautokeino for a residency. What did you want them and the Carte Blanche team to take away from this experience?
It was exciting to introduce the seasonal landscape to Carte Blanche. Skàbma
(polar
night) had just started. The sun was nearly disappearing, and the colours in the frozen scenery is breathtaking. Even for us who are from the north og live in it daily, has this experience. This was also an opportunity for me to collect and build the scenography in these surroundings. 
To collect simple things and material directly from this environment is the foundation for the room we have built on stage. I have focused on creating a simple and direct expression that comes as a natural expansion of the environment we are wrapped within; an old and tired sled from on of Kautokeino`s many sled-carpenters, a tarp from Elle Sofes garage, a tree from the forest of Avzi and an old ventiflex found outside LKABs mine-entrance.
5.Your background is within architecture; how is to develop a contemporary dance performance in collaboration with choreographer Elle Sofe?
Theres actually a lot of similarities between the two genres. They are both fundamental as forms of expressions; language before language. The movement and the room are the most fundumentally components in human life. At the same time these disciplines toareas that haven`t evolved in sapmi context. I find the fiction and ending are the most challenging aspect to creating something for the stage. It starts when you arrive, and finish when you leave. I usually work to erase these borders.
6.How has it been to work with Carte Blanche? 
Is incredible to work with such amazing artists. It has been inspiring, in particular to listen and learn from the well articulated dancers and the ways they express themselves. They are in a way forced into their own sociality.
I do have an introverted side to me, which also is important dimension in my creativity. It has been inspiring to be challenged on this in particular.